What made you decide to travel around the country to see Hall and
Oates?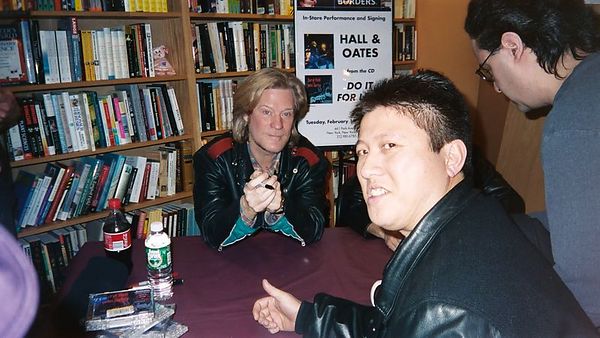 Well, it all started with attending the Daryl Hall solo shows on January 30, 2004 at the Keswick Theater just outside Philadelphia and especially in New York on January 31, 2004 at BB King's Blues Club in New York City. Lori Allred, the webmaster of
www.hallandoates.com
put the aftershow party together at Lucille's Restaurant, which was adjacent to BB King's Blues Club, for the Hall & Oates fans that wanted to attend. It was easy for me to be there, since I currently live in the New York City metropolitan area. That night was so amazing from a fan's perspective, because I got to meet other like-minded fans who felt and shared the same passion for Daryl & John's music. And it wasn't just the local crowd that I regularly get to see at the H&O shows here in the northeast...it was meeting those folks that came from places like Oregon, Louisiana, California, Florida, Nebraska, South Carolina or even England that impressed me as a fan--if others were willing to fly or drive long distances for an event like this, I didn't see why I couldn't do the same as far as traveling to a different city to see my favorite musical act.
You have to understand that throughout the year 2003, all the Hall & Oates shows and appearances that I attended were primarily in New York, Pennsylvania, New Jersey or Connecticut...some of those appearances included Borders Books in New York City on February 11, 2003 for the release of the Do It For Love CD, the A & E Live By Request show, a live broadcast on NBC Weekend Today and the CBS Early Show taping. Because of all that, it was easy for me that year to stay in the northeast and make little road trips or just simply hop onto a bus to New York to attend these media appearances.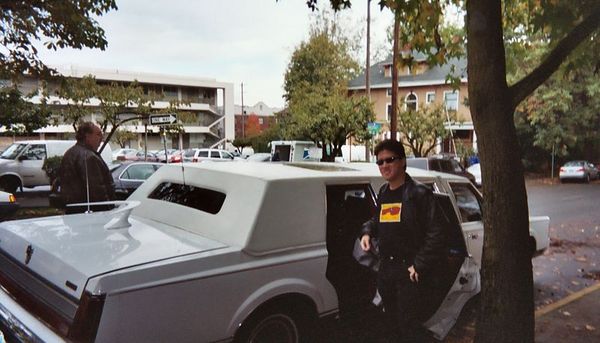 2004 was a different story in that I knew there weren't going to be any big New York City appearances for quite some time. After the Daryl Hall solo shows and the subsequent party that followed, I had a plan in mind to meet other fans and of course to get my next H&O fix, wherever that may be, so I originally wanted to go to Las Vegas to see H&O perform out there, but circumstances beyond my control prevented me from accomplishing that. So I looked at the other tour dates and saw a House Of Blues show listed in Anaheim, CA. I had heard nothing but good things about the "General Admission" type of shows, which the HOB is known for, so I purchased the ticket and then I booked a flight to Long Beach. I would call that my "Los Angeles Turnaround" as I flew out on that Tuesday morning, checked out downtown L.A. for a bit, went to the show later that night, met some more fans out there, enjoyed an awesome show and crashed out at a friend's house before flying back to New York the next day. That would be the start of my long strange trip through various parts of the U.S. in 2004.

What were some standout shows for you? What were some surprises you
weren't expecting?
Well, I'd have to say that attending the A & E Live By Request show in New York City on March 24, 2003 is the most memorable one of them all. People ask me about this all the time, "What was it like to be there"? All I can say that it was magical from a fan's perspective...I'd compare it to being a Beatles fan back on February 9, 1964 attending the Ed Sullivan Show as it was broadcast live on national television that day. Daryl Hall said it best at a number of the shows this past summer during the Rock & Soul Revue tour...you can buy the live CDs, the live DVDs and you can just simply watch them in the comfort of your living room, but you won't get that same feeling that you would if you actually attended a live show because it's all about the live music...and he's absolutely right! I also get asked about how I wound up down in the pit at Live By Request...simply put, I was originally sitting up in the balcony, but a producer came up to our area and asked if anyone was willing to stand for over 2 1/2 hours down up front in the pit area. Immediately, I raised my hand, the producer pointed at me and ordered me down to the pit, in the area of where Tom "T-Bone" Wolk and Daryl Hall usually perform. To this day, it's very difficult to remember actually standing there the whole time as I have to constantly watch the DVD to jog my memory on certain things like in between the songs during the commercials, staring at the "strategically placed tall blonde woman" in the center of the stage (who didn't even know the words to "Maneater"), etc. In fact, during "Life's Too Short", you can see me bopping along as I continually took quick glances at that tall blonde woman!
How did crowds differ from place to place? Tell us about your
experiences meeting fans and what you enjoyed about that?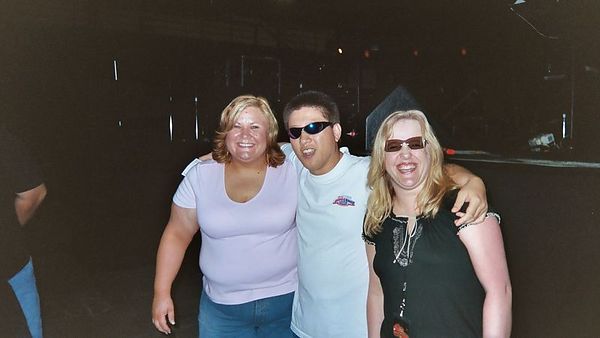 Hall & Oates fans are the best...they share the same love of the music as I do. I have been a fan since May 1981 when I heard "Kiss On My List" on WIFI 92 in Philadelphia for the first time. From there I was hooked and wanted to hear more. Over the last few years, and I'm sure you've heard it enough times, other people who aren't fans or maybe were at some point in their lives will ask me, "Oh, they're still around?" or "Why do you keep going to so many of their shows?", and I have gotten to a point where I just simply tell them to attend just one show and they will know what I mean and understand why I go to a lot of Hall & Oates shows. Meeting other people, whether it would be in the northeast or outside of my general living area has been so much fun...I've made so many new friends and talked to a lot of H&O fans over the past couple of years and every one of them has been so nice, so nice in fact that it is one of the main reasons why I take great pleasure in attending a Hall & Oates show. I don't think the crowds are too much different at various cities and venues, because the H&O fan that I meet for the first time is usually just like any other fan...they share the same love of the music that I do. When I talk to someone who's a fan, the common denominator I get is that it's hard to talk about Hall & Oates to the general masses like our friends and family because seriously, they couldn't care less or don't really want to hear about it, so meeting other folks is where we could share some of the stories revolving around Hall & Oates music. I mean, that's how this whole thing got started...I took photos of the 2003 NBC & CBS appearances and when I saw what I had as far as the pictures go, I was impressed and I couldn't just let them sit in my photo album at home and show them to my family and friends--honestly, they couldn't give two hoots about them. So I created an online photo album to share with other fans that would be appreciative of what I had, to which I posted a message on the
www.hallandoates.com
messageboard pointing to the link and the response has been overwhelming, to say the least. Also, General Admission shows are usually the best ones to go to if you're willing to scream, shout, sing and stand on your feet for the entire concert...I think the people who go to those GA shows are the most passionate about enjoying the band.
The only thing that I have a problem with is the casino shows...it's usually the high rollers and big spenders that get the front row seats as "complimentary seats" where they just sit there like stumps, while the real fans sitting behind those fuddy duddys are trying to have a good time, only to be ordered to stay in their seats. I know how the whole racket goes because I used to work in Atlantic City and knew people in that industry that told me that the casinos only want their customers to gamble and spend money...the shows are just a respite for the gamblers before they head on back to the casino game room. Don't get me wrong...I've heard mixed stories on the good and bad of casino shows, but unfortunately, it's been mostly bad from what I've heard. Also, keep in mind that the setlist for a casino show would mostly be a "greatest hits" type of show...something that would be catered to the casual audience.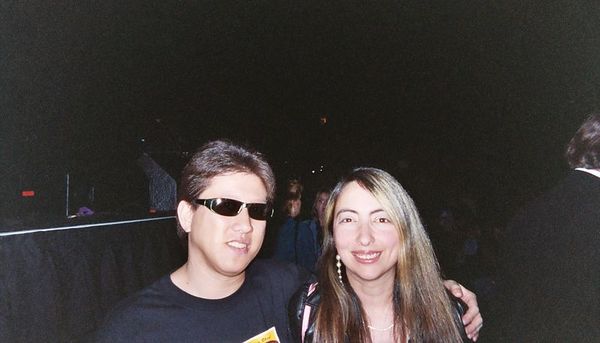 Another type of venue that I'm not particularly fond of is the amphitheater setting where the first 5 rows are "season tickets" for the stuffy corporations that give their tickets to their employees as bonuses and again, those kinds of people just sit there like dead wood. Sometimes security can be good and leave you alone and sometimes they can be real jerks...depends on the situation. PNC Bank Arts Center in Holmdel, NJ was a pure example of security throwing their weight around trying to squash what could have been a good time for H&O fans, but instead, they kept pushing us back to our seats just so the corporate stiffs can sit there and watch the show in total boredom. Sheesh! My suggestion would be to move the "season tickets" to the far back area, where those folks can just sip on their Dom Perignon or talk about the latest sales figures on their stupid company...

How did you feel about the show as it progressed? What were things
you noticed that Hall and Oates did as the tour went on that they did
differently?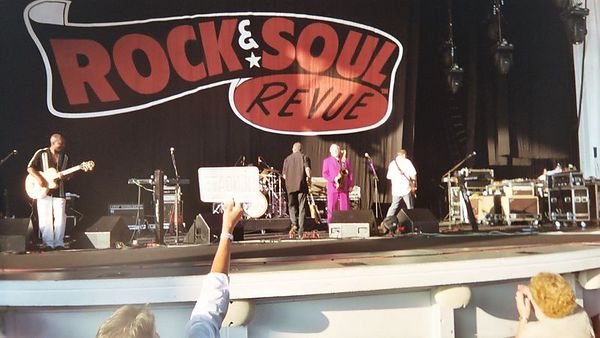 Well, I first saw Hall & Oates at the Brendan Byrne Arena in East Rutherford, NJ back in 1985 when they were promoting the Big Bam Boom album. That entire arena was sold out and the best seat I was able to get was on the floor, all the way in the 35th row or something like that. In 1988, I saw them again at the same arena, this time in support of the Ooh Yeah! album, but I was sitting in the first mezzanine. I would not see them again for another 14 years as the 1990s were a tough time for me, living on my own for the first time. In 2002, a friend had suggested a Hall & Oates show at the New Jersey Balloon Festival in Readington, NJ. I went, but sat off to the grassy knoll on the right of the stage. After that night, I was so impressed that I decided to get a couple of tickets for the next show, which was at PNC Bank Arts Center in Holmdel, NJ. This time, Todd Rundgren had opened up for them and I got to sit in the 4th row...best seats I ever had at the time! Anyway, after that show, which ended with a joint encore with Hall, Oates and Rundgren trading off on each others' songs, I was blown away and decided to become "Man On A Mission" on the Hall & Oates messageboard. I came up with that name because I had read about how Daryl & John were trying out new songs at different venues and that song was one of them and I went with it. A few weeks later, Lori posts on the official website the tracklisting for the forthcoming Do It For Love album, and lo and behold, look at the first track on that album! I think someone had offered me something in return to give my screen name to him at one point, but I politely declined.
Fast forward to the 2003 tour, Daryl & John were supporting the Do It For Love album, so I noticed a number differences in the setlists, but all in all, it was pretty much a standard setlist that everyone would enjoy throught the rest of the year. From what I had read on the official website's messageboard, there were a number of shows where a couple of songs would be added on in place of another...songs like "Las Vegas Turnaround", "Rich Girl", "It's Uncanny", "Me And Mrs. Jones", "Someday We'll Know" and beginning in July of that year, they started playing "Can't Get Enough Of Your Love" as a tribute to the recently departed Barry White. That was also the year in which Kenny Loggins had joined them on tour for a few weeks in August and got to hear him and Daryl & John perform each others' songs like "This Is It", "You Make My Dreams", etc.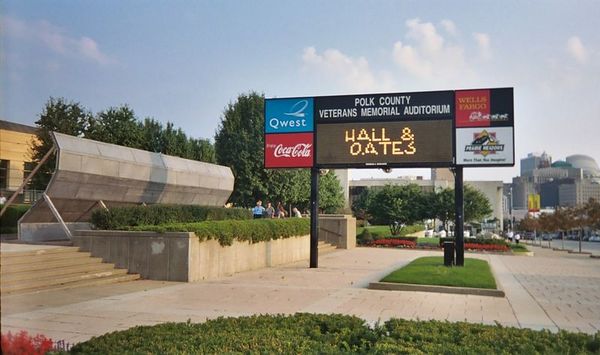 In 2004, I made that decision to try a few different cities, just to get to know other fans that I've met through the New York City party. When the dates were announced for the Rock & Soul Revue, it was also mentioned that Michael McDonald would co-headline and the Average White Band would open up. This was something that I wanted to check out and be there at least for the first show. Originally, I was only going to fly to the Tampa show, but several people convinced me to attend the rest of the Florida shows and make it a vacation through Kissimmee and Boca Raton. One friend in particular offered a place to stay, which I will eternally be grateful not only for her hospitality, but her friendship as well. Anyway, I got to Tampa and didn't know what to expect with the bargain I was getting with all 3 bands for nearly 4 hours of rock & soul! I was not disappointed and was totally amazed of the talent and good times that the bands conveyed to the crowd out there. A couple of days later, I attended the Kissimmee show and that night was even better than Tampa! One highlight I won't forget is when a group of folks beside me screamed out "Love TKO" to Daryl Hall in between songs...he looked down and said on the microphone, "hey, we can do requests" and thus, "Love TKO" was played in place of a song originally on the setlist. In Boca Raton, the setlist was pretty much standard, but the one thing I picked up right away from the Tampa show was that even though I was only there for H&O, I was impressed with the Average White Band and Michael McDonald, so much that any future Rock & Soul Revue shows that I would attend, I made sure to get there early just to see all three bands perform.
Sometimes, I got annoyed when someone would say "Oh, I don't care about the other guys...just give me Daryl & John because that's all that matters to me", and I would say to them that they're not giving the other bands a chance...trust me, if you go in with an open mind, chances are you'll have a terrific time and possibly expand on your horizons! And the one big highlight, probably the best one of the night was the final encore where all bands got together and traded off on each others' songs...there was a sense of camaraderie between the various members of all 3 bands having a party and a good time! If you never saw any of the Rock & Soul Revue tour, you missed out on the best show of the year.
As far as the 2004 Rock & Soul Revue tour goes, I got to attend the first three shows in Florida, three shows in my area of New York/New Jersey, two shows in the midwest and the final two shows in the Pacific Northwest. During the final leg of the tour, Daryl & John put into their setlist "I'll Be Around" and "Love TKO" in support of the forthcoming Our Kind Of Soul album and the final encore in the all-star jam included "Love Train"...something I hadn't heard them play since 1988!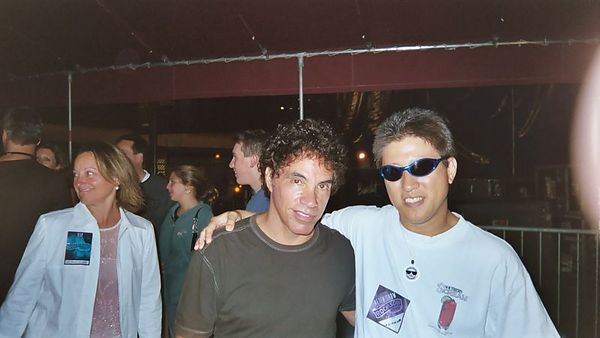 What advice would you give to a fan who might want to do what you
did? Things to look out for? Things to do?

Be prepared to hear the same songs over and over when you visit various towns...I'm not kidding! The setlist is designed for the local fan in mind...someone who hasn't yet seen Daryl & John on that tour. Seriously, if you go to see a play on Broadway once and you enjoyed it so much that you wanna see it again, do you think the performers will do anything different? Of course not! But yes, from time to time, the band does slightly alter their setlist whenever it is warranted...something like "Las Vegas Turnaround" would most likely get played in Las Vegas, but probably not in Philadelphia. And don't expect them to play an obscure album track like "Is It A Star" because the bottom line is...it wasn't a hit! But also go in there with the mindset that you're only there to enjoy the show with the people around you, because after all, the music is what it's all about. Anything else that happens beyond the concert is just extra topping on the cake. Also, go alone...you'll have the flexibility to meet up with other fans before, during or after the show at a party or a bar.
And if you're visiting a town for the first time, try to see and appreciate some of the local sights to get your mind on different things for a change. Eat and drive or fly cheap...believe me, attending the first 3 shows of the 2004 Rock & Soul Revue in Florida wasn't as expensive as I thought it would be and crashing out at a friend's house helped a lot too! If you're going to stay at a hotel, try to buddy up with 3 or 4 friends to reduce the cost of the room for everyone. If you try do everything first class, you'll only be able to attend a few shows to the point where you have to say to yourself, "I have to save money, so I can't go".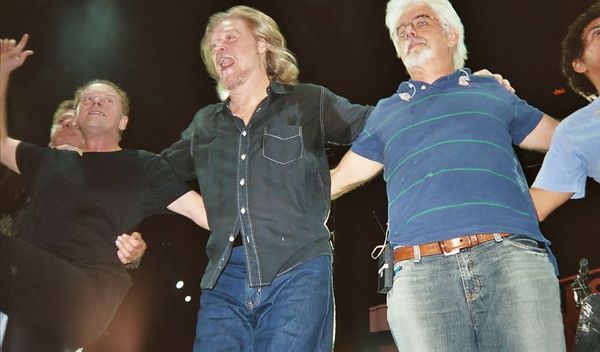 Finally, be friendly with everyone around you. I know, it's a little intimidating at first to be able to invest yourself into a tour, especially if you don't know a lot of people, but when you meet 1 person, you might get to know 3 or 4 of their friends, and then you could meet their friends as well, and so on. The saying is true...a little kindness goes a long way. I always lived on the motto: Live every day like it was your last, because someday it will be.
One thing I always remind myself whenever I go to a show is that I'm just a fan like everyone else and that I'm just a regular guy who is just out there to have fun.