By Mariam Ayub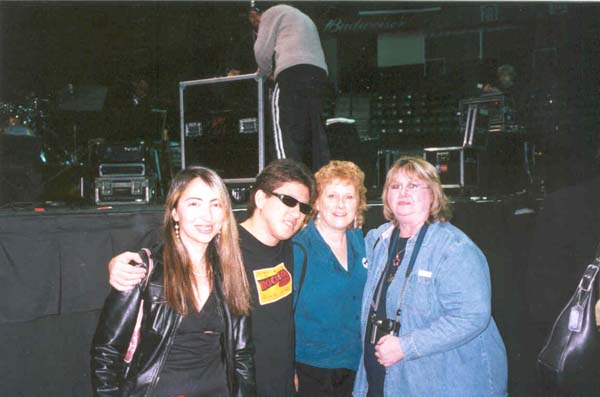 So, there we were in traffic, wondering if we would ever make it to Everett! It's a long way from the SeaTac area, let me just say. As I looked out at the darkness, I clutched my roses tighter. All glitzied up, I just couldn't wait to see the last concert of the Soul Revue tour - Average White Band, Michael Mcdonald and Hall and Oates in my hometown of Washington! It would definitely be a night to remember, but since we ran late, I would once again miss the Average White Band, (I just caught the last song of this with DeChant!) The night before, I had missed them when I went to go meet Michael Mcdonald, which was just amazing. He even dedicated my fave song of his to me on the stage! So, I guess good luck and AWB was just not mixing. Ah, well...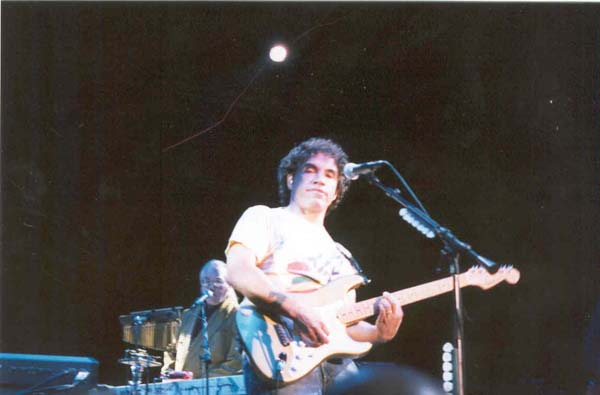 I got up to my front row seats, (thank you, Lori!) and mingled with other fans in between the sets. I saw Mel again, (read his great interview here), as well as local fans like Chris Clanton, Steve Braden and Teresa and we all mugged for shots. Seeing a sea of people with Daryl Hall's likeness on their shirts was truly a sight to behold. Soon enough, it was time to get ready for Michael Mcdonald's set and it was a stunner! Starting with "It keeps you running" - I scrambled to my seat and enjoyed my private show with Michael! His songs, (both new and old), touched me, (as they so obviously had the night before), but this time I got to hear more of his set, including personal faves of mine like "Minute by Minute" and "Ya Mo Be There". I was up and dancing for most of the set! Thank you, Michael, for such an amazing night and shows!


Another set change and we staked our places right by the stage! I knew where Daryl would be for most of the night so I got Teresa, Steve, and myself in that general area. We waited with excitement, (no bathroom breaks allowed now!) for the greatest music duo of all time to hit the stage. When the lights went out, the crowd was at a fever pitch and I saw Daryl & John from backstage. It was almost like a dream - I hadn't been this close since Summer Nights at the Pier in 2000! They came on stage to rousing applause and started with "Out of Touch", (my friend and fellow fan Steve Braden noted that this year marks the 20th anniversary of Big Bam Boom.) We got to hear great new songs from the Our Kind of Soul album like "I'll Be Around" and "Love TKO" as they talked about the album that was only days away from being released. When they performed "Sara Smile", the audience sang along so well that we even surprised Daryl - and he clapped for all of us!

As we moved towards the end of the set, the whole crowd moved along to "I Can't Go For That" and "You've Lost That Lovin Feeling". Daryl & John have never looked happier sharing these moments with their fans and the end seemed to come too quickly. Daryl coyly asked the audience to stick around and we held on to our spots...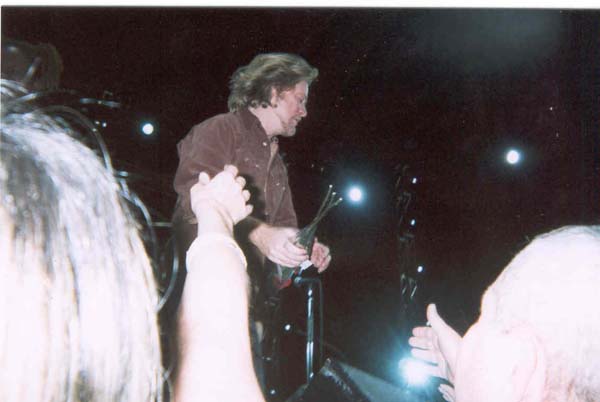 I ran over to get my roses - three roses, which were, in fact, for each of the guys - Daryl, John, and Michael (they had little to and from's on each of them). I get back to my spot just behind my friend Teresa and brought my friend Chris over to take pics while I enjoyed the rest of the amazing set with all bands on the stage together! Starting with "Work To Do", it was so much fun to watch everyone jamming and to be able to see both Michael and Daryl sing songs of each others that I adore was icing on the cake, (Kiss is On My List and What a Fool Believes).

When the end came with "Love Train", I just couldn't believe it was all over. I asked Teresa if I could move closer to the front and held up the roses, hoping to give them to someone. Well, it wasn't just anyone who took my roses. It was Daryl himself who came down, looked into my eyes, mouthed "thank you" while staring right at me and then he took his bow. I can tell you I just about died then! LOL Wow! The Soul Revue Tour was everything I could have ever dreamed of - it did indeed make my dreams come true!

Mariam